"MULTIFUEL" CAPACITY
The incorporation of a continuous injection device ( instead of the spark plug), extending the duration of the combustion, the possibility of adjusting the distribution of the intake, and the capability for operating at high compression ratio, permit that this engine can use various types of liquid and gaseous fuels

VOLUMETRIC EFFICIENCY

The intake and exhaust ports can have equal or greater section that the cylinders, therefore the volumetric efficiency remains limited only by the inner-outer differential pressure. With the installation of a supercharger, the theoretical volumetric efficiency can exceed 100%.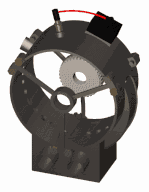 COMPRESSION RATIO

As is known, in an internal combustion engine, the maximum efficiency is obtained accomplishing the mixture ignition with high-pressure. Most of the rotary engines known have the drawback of not to be able to work with high compression ratio. The conventional sealed system, and the operation without valves enable this engine operates to high compression.