PISTON / ROTOR CIRCULARITY PATH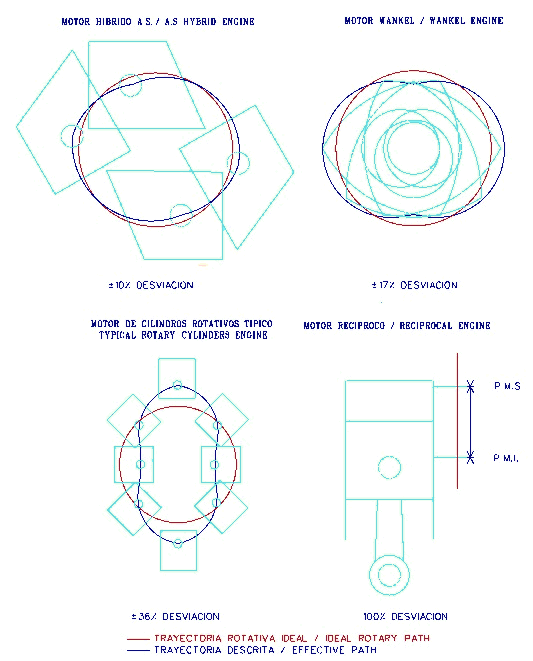 COMPARATIVE: HYBRID ENGINE / CONVENTIONAL RECIPROCATE ENGINE
HYBRID ENGINE

Mod. AC-800

RECIPROCATE ENGINE

768 c.c.

CYLINDERS
2
2
VALVES
NONE
TWO OR MORE
CYCLE
4 STROKE
4 STROKE
POWERS PER TURN
2
1
VOLUME DISPLACEMENT
760 cc
768 cc
PORT SECTION IN HEAD CYLINDER
40% OR MORE
LESS THAN 25%
BORE x STROKE
84 mm x 68 mm
83 mm x 71 mm
HYDROGEN CAPABILITIES

YES

NO

ENGINE BRAKE EFFECT

YES

YES

OVERALL NUMBER OF PARTS

70% (30% REDUCTION)

100%

OVERALL NUMBER OF MOVING PARTS

30% (70% REDUCTION)

100%

OVERALL VOLUME OCCUPIED

50% (50% REDUCTION)

100%
CONCLUSION

The Hybrid Engine concept represents a notable advance in the search of internal combustion engines more efficient.

This engine have the advantages of the piston reciprocal conventional engine as well as the rotary engine (Wankel), because of incorporating a stable seal, be efficient in thermodynamic and volumetric, to have a hard structure, and be free of valves train and masses reversion motion.

These advantages make an engine economic in construction as well as in maintenance and fuel consumption. Because of not incorporate valves, reduces the pollutant emissions, being able to use hydrogen as fuel.
ACKNOWLEDGEMENTS
The author wishes to thanks to all that have contribute with its commentaries and opinions on this work.

Antonio Sánchez 1997-2007. Málaga. Spain