Currently are known the advantages that introduced in the highways transport the detachable containers and the truck-trailers. To make viable this technology in the air transport is the target of this design. In the diverse parts that compose an aircraft, the most expensive are the engines, the avionics, the wing and the control surfaces. To maintain operating these parts the maximum time, makes possible low the operation costs. The current aircrafts, those for cargo and those to transport passengers, or those that mix both loads, should remain parked obligatorily a variable time in the airports, between a flight and the next, for maintenance operations and cleaning in their interior cabinet. To perform other tasks, the cabinet should be modified in function of the load to carry out in each flight. Many passengers aircrafts that not fly in night hours, are parked. These hours are occupied by another aircrafts specialized in cargo. This is due to the impossibility to modify the interior cabinet to carry out both functions in short time. In other cases, the modification is completely impossible, because should be modified the fuselage structure of the aircraft.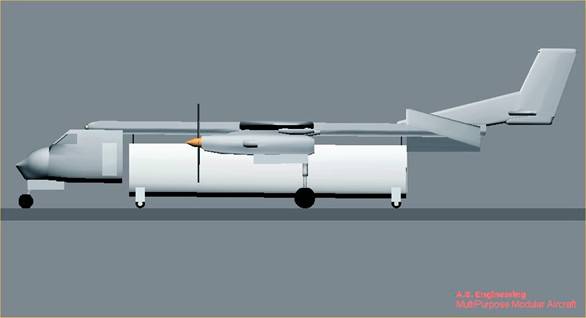 To maintain their different business areas, many companies of air transport should acquire and to maintain diverse types of aircrafts specialized in a single function. Many of these aircrafts frequently remain inactive for long time in the airports or hangars. This is the case of some cargo aircrafts, fire extinguishing, military, transport of personalities, transport of fuel, etc.
The periods of forced inactivity of the current airplanes affect negatively to the profitability of the companies. This inactivity can be suppressed with the extremely versatil solution, the privately developed "Multipurpose Aircraft with Modular Fuselage Project" (MAMF). A simple concept with clear evidence of the aerodynamics proof.
On the other hand, this novel design can provide answers to many of today's most pressing logistical problems. For instance, the military transport as it exists in operational use today-in over aircrafts completely equipped to carry out every mission required of it. When used as a standard cargo carrier, it must carry, as dead weight, hundreds of unnecessary pounds of equipment which are needed when the same plane is to be used as, for instance, a paratroop plane. By designing different types of interchangeable containers for different missions this waste is limited, and every pound carried contributes directly to low the cost of the task.